I've "lost" my bike, my laptop, my tablet. Do you accept my report of those lost items?
I see it on the list! How do I claim my Item?
If your item is listed, UCPD has it! Found items can be retrieved from the Lost and Found office during business hours. Other times to pick up your item may be arranged by appointment. Be sure to pick it up before the deadline shown.
To claim an item you MUST have the following
Valid identification

, such as

Driver's license
Student ID
Employee ID
Passport
Other photo ID

Proof of ownership

, such as

Purchase receipt
Description of item in detail
NOTE: When an item is found, our staff will enter a thorough description in the database's "Reserve Description" field, which will not be seen by the public. If you call to claim, you will be asked questions to confirm your familiarity with the lost item. 
How do I notify UCPD of my Lost Item?
If your item is not listed, let us know you've lost it.  Use the online form to tell us
when the item was discovered missing, 
when you had it last, 
where you were when you had it, 
where you think it might have been lost.
Use this to enter only a very basic description of the item, such as size, color.
NOTE: Be sure to update your personal listing in the CalNet Directory. UCPD uses that information to contact you if we've found your item.
You can also email your report to found@berkeley.edu. Include you name and contact information, the date the item was lost, the tyoe of itme, including the brand, color and any details that would make it easier to identify the item as yours.
What should I do if I've found something?
If you find a lost item on the Berkeley Campus, it is your responsibility to turn it in to UCPD. 
Does UCPD Lost & Found accept everything?
No. We do not. There are some items we won't accept into our storage area and we won't log into our database. 
We no longer accept these items:
Due to health and safety issues, certain found items, such as clothing, food, water bottles, or umbrellas will not be accepted or listed as found. The following items are NOT accepted. 
Perishable Items
Blankets
Pillow
Bottles
Clothing
Coat/Jacket
Gloves/Mittens
Hats
Pants/Shorts
Scarves
Shirt/Sweaters
Umbrella
Coffee Mugs
If you find such an item, we recommend you return it to the place where you found it. 
I've "lost" my bicycle, my laptop, my tablet. Do you accept my report of those lost items?
If have inquiries about those items, please call us at (510) 642-6760 or stop by the Police Information window at 1 Sproul Hall Monday through Friday 8am to 4pm.
When these high value items are missing, your report will be directed to a police officer who will treat it as a report of theft and will enter as much information (including any serial numbers you may have recorded) in a national database of stolen goods.
I've lost my keys, why can't I enter it into the database?
We DO accept keys, but because so many people lose keys, we cannot maintain the database describing and listing each set of keys. The database will not list any keys, but we may have them! If you have lost your keys, please call us at 510/642-6760.
Is there another Lost & Found on campus?
UCPD (University of California Police Department) is the central repository for lost and found on the Berkeley Campus. Buildings throughout campus will sometimes maintain their own collection of non-valuable lost & found items such as books or clothing, but should turn over anything of value to UCPD on a weekly basis. 
What happens to unclaimed items?
The online database will list the deadline for claiming an item. Found items are held at the Police Department for 90 days, after which time UCPD disposes of them. After 90 days, unclaimed valuables may be auctioned.  Any monies or proceeds from unclaimed found items will be distibuted to UC Regents.
Where is Lost and Found, and when are they open?
The Police Department on the Berkeley Campus is located in the lower floor of Sproul Hall, (on Bancroft near Telegraph). The campus Lost & Found office is located at #1 Sproul Hall.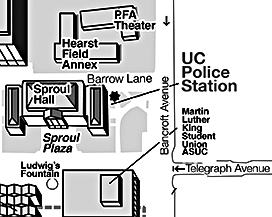 Hours are:
Monday through Friday, (excluding holidays)
9:00 a.m. – 4:00 p.m.
email found@berkeley.edu
phone (510) 642-6760.
If you have any further questions, you can contact Lost & Found at (510) 642-6760. 
Lost & Found hours change per semester. Check this page for current information.